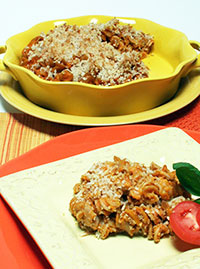 Pumpkin is a true fall staple. Almost anything can be converted to pumpkin flavor during the fall, but did you know that pumpkin has many health benefits as well?
Pumpkin is packed with vitamins and minerals and is relatively low in calories. Pumpkin also contains antioxidants and nutrients that boost the immune system. With all those health benefits, we wanted to give you one more pumpkin recipe to add to your weeknight menu – Pumpkin Mac and Cheese!
This recipe is rich in carotenoids and just one serving provides 100% of your daily value of vitamin A. Each serving contains 17 g of protein and 4 g of fiber, and it actually has fewer calories than a 12 oz cup of your favorite pumpkin spice latte.
Makes 6 servings.
Ingredients:
Canola oil cooking spray
1/2 cup panko bread crumbs
1/3 cup grated Parmesan cheese, divided
1 Tbsp. canola oil
8 oz. whole-wheat elbow noodles (or substitute for your favorite noodle)
1 cup low-fat (1%) milk
1 Tbsp. unsalted butter
1 Tbsp. all-purpose flour
1½ cups (2½ oz.) sharp light (50 percent) Cheddar cheese
1 cup canned unsweetened pumpkin
1/2 tsp. mustard powder
1/4 tsp. ground black pepper
Pinch of cayenne pepper
1/8 tsp. ground nutmeg, optional
Directions:
Preheat oven to 375 degrees F. Coat 6 cup baking dish with cooking spray and set aside.
To breadcrumbs, add 2 tablespoons Parmesan cheese and toss to combine. Add oil and using your fingers, toss to coat breadcrumbs, then set mixture aside.
In large pot, boil 4 quarts of water. Add pasta and cook for 10 minutes, until slightly al dente. Drain in colander and set aside.
While pasta cooks, in microwave or small saucepan, heat milk until it steams, and set aside.
In large saucepan, melt butter over medium heat. Whisk in flour and cook for 1 minute, whisking slowly. Off heat, gradually add milk while whisking to avoid lumps. Return pot to medium-high heat and simmer sauce until it thickens to consistency of stirred yogurt, 3 minutes. Add cheese, remaining Parmesan cheese, pumpkin, mustard, black and cayenne peppers and nutmeg, if using, and stir until cheddar melts. Mix in cooked pasta. Spread mac and cheese in prepared baking dish. Sprinkle seasoned breadcrumbs over top.
Bake 15-20 minutes or until breadcrumbs are crisp and golden brown. Serve immediately.
Credit: American Institute for Cancer Research